Page 1 of 4
Herman Miller x Logitech – Embody Gaming Chair Review
Comments


Become a Patron!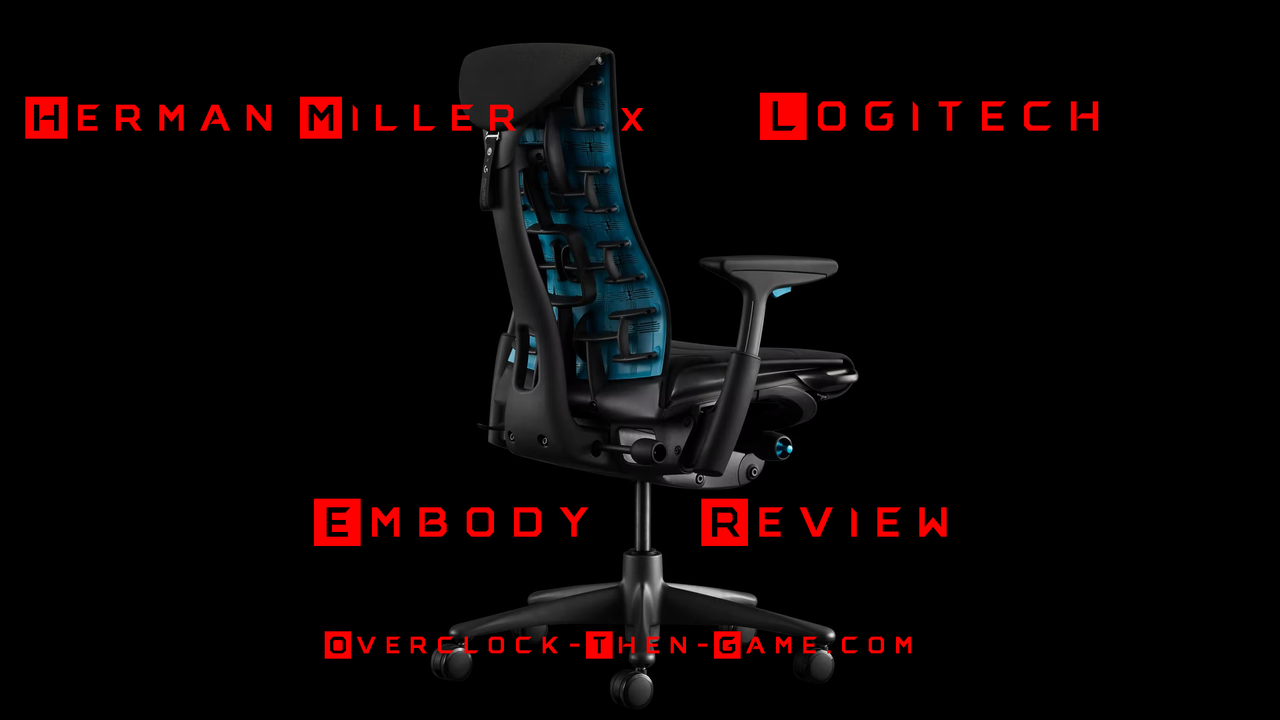 Introduction
As a lifelong gamer and IT professional I have spent a large part of my life at a computer desk. As you get older and move away from the typical "gaming chairs" you begin to think more about your health and your posture. Herman Miller is one of the most recognized brand names in the world. They have been around for a long time and have released a gaming chair based on the original Embody design. Herman Miller partnered with Logitech to create a chair to assist gamers for long gaming sessions. This is also great for content creators and those who are on their PCs for several hours. HM chairs have always carried a premium price. As of Q2 - 2022 the Herman Miller x Logitech Embody Gaming Chair currently retails for $1,795.00 (plus tax – free shipping). With such a steep price you would expect this chair to excel at every level above the competition and over the years the competition has grown. As usual I will give my honest opinion about my latest purchase in my pursuit to find the best ergonomic chair for my needs. Every chair is different and everyone has a different spine alignment. The Embody is not a new concept from HM, but is now being targeted at gamers. The Embody chair first appearance was in 2008 with its unique design and 'backfit' adjustment knob. The 'BackFit' knob allows you to support the thoracic (upper- back) or sacral (lower-back) area more properly. The Embody Gaming Chair should have more padding for longer gaming\streaming sessions and provide several features that I will cover throughout the article. I have always wanted an Embody for roughly 6 years now. Let's see if the Herman Miller x Logitech Embody Gaming Chair can live up to the hype.
Packaging & Shipping
When my Herman Miller x Logitech Embody was delivered I was surprised at the size of the box. The box was 63 lbs. and very tall and wide. The Dimensions were 41x30x29 inches. The box will probably be a challenge to bring inside most home doors and storing the box will not be an easy challenge. However, the chair is already assembled and rolls right out of the box. Zero assembly is always a great thing. The packaging is very nice and you can tell it was packed to prevent any damage during shipping. Right out of the box the Embody Gaming Chair looks just as great as the pictures online. The fabric looks and feels very nice as well. One thing you'll notice right away is that the chair is smaller than you probably imagined when looking at it in person, however it still looks nice regardless. The chair is manufactured in the USA and all of the parts appear to be made of quality parts that should last a very long time. What is more important to me isn't the aestheticsn but the ergonomics that the chair offers for long working & gaming sessions.
Initial Thoughts
The first time I sat in the chair it felt very nice. No issues initially. The casters felt great and responsive when moving across my carpet while setting. Moving was effortless. The aluminum base might not be suitable for those of you who like to rest their feet on the base of the chair. The base is sturdy, but pretty thin and fairly short in length for those who are wondering. The seat extension was simple enough to use. The tilt, height and posture fit handles\controls all felt like high-quality parts. Now let's see if this chair is worth nearly $2,000 at regular price ($1,795.00 + tax).