Page 14 of 16
RX Vega 64 & R9 Fury X Comparison
Now that I've finally shown all of the RX Vega 64 benchmarks I would like to show a comparison to the R9 Fury X. I've included several games in the chart below to show my performance increases. I am able to run the Vega 64 with higher graphical settings due to its larger 8GB vRAM upgrade. The Fury X is a solid 1440p GPU, but at higher resolutions in most games the 4GB buffer is easy to fill up. The RX Vega 64 doubles that 4GB to 8GBs and has plenty left in the tank. If developers take advantage of things such as asynchronous compute the Vega 64 and the Fury X can both perform even better.
In RE2 @ 1080p we can see the Average FPS increase by 43%. The Minimum FPS increase by a whopping 123% as well. If we move to RE2 @ 4K we can see that not only can I run the game even smoother, I also gain 140% increase in the Average FPS category. Once again my Minimum FPS increases by a whopping 387.5% @ 4K.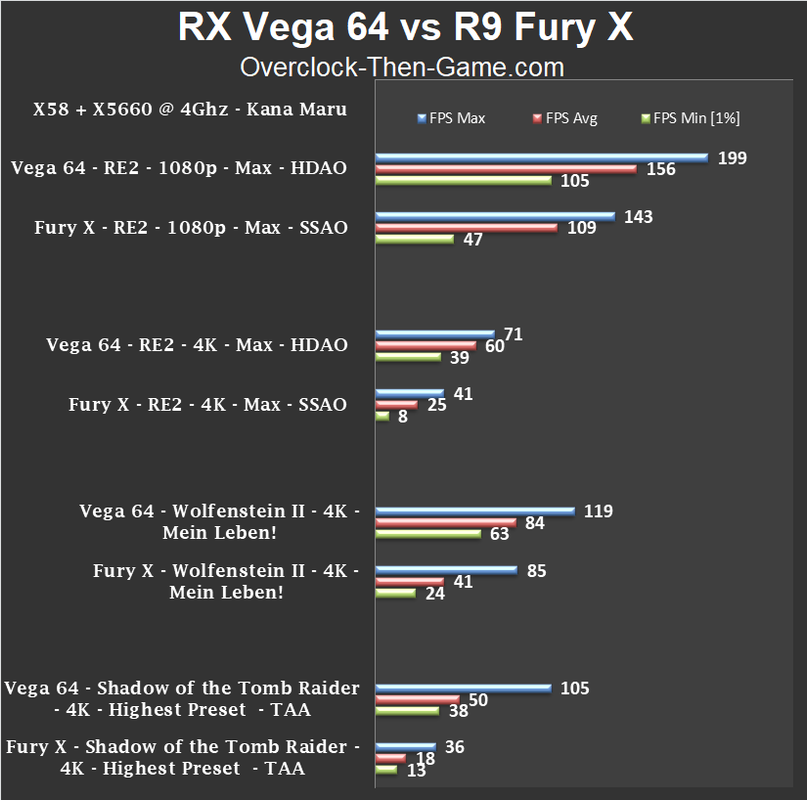 In Wolfenstein II @ 4K the Vega 64 flat out lays the Fury X on its back with a knockout punch – No contest! My Wolfenstein II @ 4K Average FPS went up 105% and the Minimum FPS show up 174%. As previous stated, no contest when it comes to 4K gaming. That's not to say that the Fury X isn't a solid GPU at 1440p and 4K, but the Vega 64 is a worthwhile upgrade for anyone running the Fury X if 4K gaming with higher refresh rates are a priority.
Shadow of the Tomb Raider reaches an incredible 178% increase in the Average FPS with the Minimum FPS increasing by 192%. On that note the FPS Max increase by 192% as well.
You can compare other games by checking out my Fury X 2020 review (click here to view benchmarks). The settings are slightly different for some games, but there are a few titles that share the same graphical settings. This is a great upgrade for anyone running a Fury X. If you can find a Vega 64 for a great price it might be worthwhile. AMD's Navi release is right around the corner and expected this year, but who knows if it will release or not. AMD has a track record of delays and COVID-19 isn't going to make anything better.