Page 2 of 11
Westmere-EP - X5660
Overclocking the X5660 & Cinebench Benchmarks

X5660 Stock clocks and minor BLCK overclock
I ran a few quick tests in Cinebench R11.5 after I first installed this chip. I scored a 7.71pts in Cinebench R11.5 @ stock clocks– 3.2Ghz [x24]. One of the impressive things about this chip is that the voltage was extremely low. What was even more impressive was the idle frequency. 1.6Ghz as the idle speed. So I performed a minor increase to the BLCK. I pushed it from 133 to 166. I only increased the BLCK and left everything else set to auto. I was able to hit 3980.50Mhz [x24] very easily or in other words 4Ghz. This only required 1.22vCore! I noticed the idle clock speed increased to 2Ghz [1990Mhz]..

Obviously the 4Ghz will down clock to 3.8Ghz after using more than two cores. @ 4Ghz [3.8Ghz -x23] I scored 9.64pts in Cinebench R11.5. Not too bad at all. At this speed the Xeon L5639 with a highly clocked BLCK @ 228 [and other settings] running @ 4.1Ghz is only 10% faster than the X5660 @ 4Ghz\3.8Ghz-BLCK 166. With a minor bump in BLCK and with ZERO other changes the X5660 was already looking better than my lovely L5639. If you were to compare my X5660 @ 4Ghz\3.8Ghz [x23] w/ BLCK 166-1600Mhz RAM to Intel's i7-4960X @ stock clock, the difference in speed is only 14.8%. This is extremely minor if you are looking to upgrade from X58 to X79 and may not be worth it at this point if you don't plan to heavily overclock. This CPU definitely has plenty of headroom. Continue reading more for the Cinebench R11.5 overclocked settings below.

L5639 RECAP+Xeon Info

Taking another look at the Xeon L5639 vs Several Intel Stock clocks

As the title suggest, I'm comparing an overclocked This email address is being protected from spambots. You need JavaScript enabled to view it. to stock High-End Intel CPUs. The i7-4770K isn't "that" high-end, but I have seen people upgrading to Haswell. This should give LGA 1366-X58 users an ideal comparison to stock higher end CPUs. I personally like to compare my overclock CPU to Intel's latest stock clocks. It really helps me decide if an upgrade is really worth it or not. Now does this mean the Xeon L5639 or Xeon X5660 would perform better clock for clock [?] of course not, due to the fact that the CPUs use different architectures to perform. Obviously people who still use their X58 as their main gaming and workstation platform will be looking to overclock the Xeon L5639 and the Xeon X5660. The highest constant overclock I could achieve with a reasonable vCore while using the Xeon L5639 was 4.1GHz. I've gathered several stock clock benchmarks from reputable review sites. So let's see how a overclocked Xeon L5639 compares to several CPUs.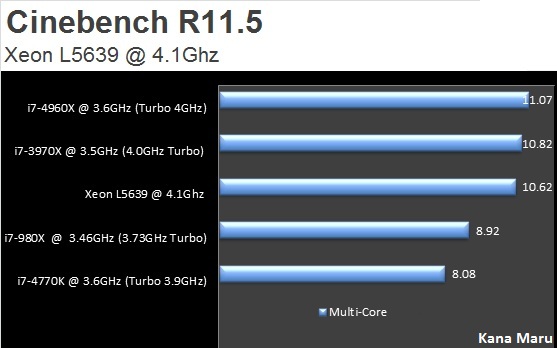 Obviously the latest and greatest Intel CPUs will overclock better. They also cost over $800-$1000.00. While the L5639 [$70-$150] and X5660 [$150-$200] are affordable now. So the cheaper L5639 does pack a nice punch for those who are still running the X58. If you can manage to reach a high BLCK with the L5639 you'll see that the i7-4960X [stock] is only 4.2% faster than the overclocked L6539. The Xeon X5660 has a higher x24 CPU multiplier which makes it easier to overclock. The Xeon L5639 has a x20 multiplier. The multiplier fluctuates [L5639 [x20]+X5660 [x24]-Xeons] with the amount of active cores.
For instance, using the Xeon L5639 as a example: Cores 1 & 2 will operate at x20. Once the 3rd OR 4th core becomes active the multiplier will drop to x19. When Core 5 OR 6 is active it will drop the multiplier to [x18] and so on. x16 is the lowest multiplier. Some motherboards can lock the CPU multiplier\CPU Ratio to x16 or x18. The following x19 and x20 can only be enabled if you have the C-state functions. So the x18 CPU Ratio should be your main focus. The only way to overclock this CPU is to increase the Ratio and the BCLK and various settings in the BIOS. With all of this being said, the 1366\2011 i7 "X or K" counterparts can and will be unlocked; allowing a much easier overclock. Therefore the L5639 takes some patients to overclock past BLCK 200-215 due to the low multiplier. From what I've read from several users; hitting 4Ghz is pretty easy for the average overclocker. I can easily tell you that the L5639 is pretty easy to overclock if you plan to use the C-States. Most X58 motherboards can move the BLCK upwards towards 200Mhz with minor issues. Which would put most around 3.8Ghz to 4.0Ghz with the x20 multiplier.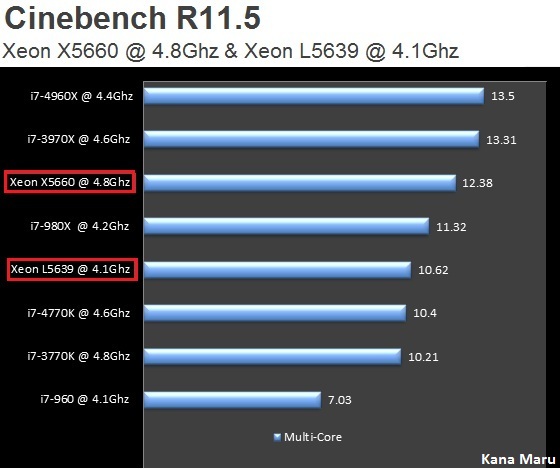 Before jumping right into the review about this benchmark section, I would like to point out my performance increase. Coming from the i7-960 I have seen a huge performance increase. The Bloomfield's are pretty damn hard to OC past 4.2Ghz, mostly due to several limitations and voltage issues. It's hard to get the i7-960 past 4.1-4.2Ghz without some serious cooling and high vCore [or the golden chip]. My performance gains in CinebenchR11.5 were a breathtaking 76.1% if you compare my old This email address is being protected from spambots. You need JavaScript enabled to view it. to the This email address is being protected from spambots. You need JavaScript enabled to view it. . Now that's what I call a upgrade.
X5660
The i7-4960X has a difference of 9% when compared to the This email address is being protected from spambots. You need JavaScript enabled to view it. . Remember that I'm only running DDR3-1600Mhz RAM. The Xeon X5660 is pretty impressive. At 1.36v I was able to hit 4.6Ghz. This voltage is right outside of Intel's recommended max voltage of 1.35v. I was able to get a score of 11.89pts @4.6Ghz in Cinebench R11.5. This would put the i7-4960X @ 4.4Ghz only 13% higher than the This email address is being protected from spambots. You need JavaScript enabled to view it. . When I pushed the BLCK to 209 and increased the vCore to a stable 1.43v, I was able to hit 4.8Ghz rather easily. This is outside of Intel's max [only 0.08v], but safe enough for me to test and play games without worrying for hours. You'll definitely want aftermarket cooling if you plan to overclock this CPU heavily.

So once again the This email address is being protected from spambots. You need JavaScript enabled to view it. vs the X5660 @ 4.8Ghz difference is only 9%. I'm only running DDR-1600Mhz RAM. So I'm sure if you run faster RAM with tighter timings you can make the 9% even smaller, possibly 7% or less. I can say I'm pretty impressed. Between the This email address is being protected from spambots. You need JavaScript enabled to view it. vs the This email address is being protected from spambots. You need JavaScript enabled to view it. , the different is roughly 17%; easily making the X5660 the better choice for X58 users who don't want to spend a lot on legacy technology.
L5639
Now let's even up the playing field a bit. I have included some overclocked examples to give you a better representation of the "Locked" L5639. The i7-4960X @ 4.4GHz is 27.1% faster than the L5639 @ 4.1Ghz while running DDR3-1333Mhz. 27.1% might not be enough to make a ton of X58 users to run out and spend approx. $1,059.00 for the latest and greatest CPU plus more for the latest platform MB. Most L5639 users should be able reach 4Ghz rather easily with the x20 multiplier and low vCore. For those who manage to reach 4Ghz or 4.1Ghz with the x18 multiplier; you'll definitely get great results while playing games. Those who can reach 180Mhz-200Mhz [BLCK] will be just as happy. This CPU definitely gets the job done. Just be sure to leave the C-States enabled.
Cinebench R11.5: Clock for Clock - 4.8Ghz Comparison
After a recent request was made I decided to post the clock for clock comparisons. Instead of comparing the This email address is being protected from spambots. You need JavaScript enabled to view it. to the lower clocked Sandy Bridge-E and Ivy Bridge-E; I have posted the clock for clock comparisons @ 4.8Ghz for the i7-4960X, i7-3960X and the X5660 in Cinebench R11.5. Remember that the i7-4960X and the i7-3960X have faster RAM, newer architecture and faster single core speed. It took awhile to find the This email address is being protected from spambots. You need JavaScript enabled to view it. so it must pretty rare. I threw the Quad This email address is being protected from spambots. You need JavaScript enabled to view it. in the mix to give those running Bloomfield's below that clock speed an idea of the potential upgrade percentage. Getting Bloomfield's pass the 4.0-4.2Ghz can be a challenge.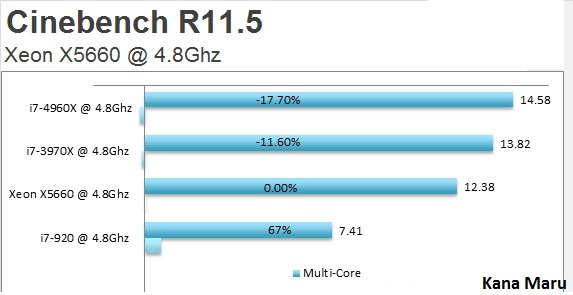 This email address is being protected from spambots. You need JavaScript enabled to view it. + DDR3-1866Mhz = 14.58 [-17.7%]
This email address is being protected from spambots. You need JavaScript enabled to view it. + DDR3-2134Mhz = 13.82 [-11.6%]
X5660 @4.8Ghz + DDR3-1600Mhz = 12.38 [0.0%]
i7-920 @4.4Ghz + DDR3-1600Mhz = 7.41 [+67%]
I originally I wrote the Cinebench 11.5 review for the L5639 comparison and added the X5660 results. This should provide a better comparison for those looking to upgrade to the X5660. The X5660 still holds it's ground. Clock for clock coming within 11.6% of the highly clocked 3970X is pretty damn good. The 3970X was taken from HWBOT as well. The i7-4960X increased from 13% to nearly 18%. The X5660 is still within 17.7% of the i7-4960X. The comparison is still a bit one sided since I'm running legacy tech and using lower memory speed. I'm still impressed with the X5660. The X5660 is 67% faster than the This email address is being protected from spambots. You need JavaScript enabled to view it. . You don't find a lot of i7-920 running 4.8Ghz without nearly ruining the chip. The i7-4960X is a whopping 96.7% faster than the i7-920. Even if the i7-920 was running 4.8Ghz I'm sure the 4960X would still stomp it by at least 80%. With all of that being said I hope this answers more unasked questions.
Cinebench R15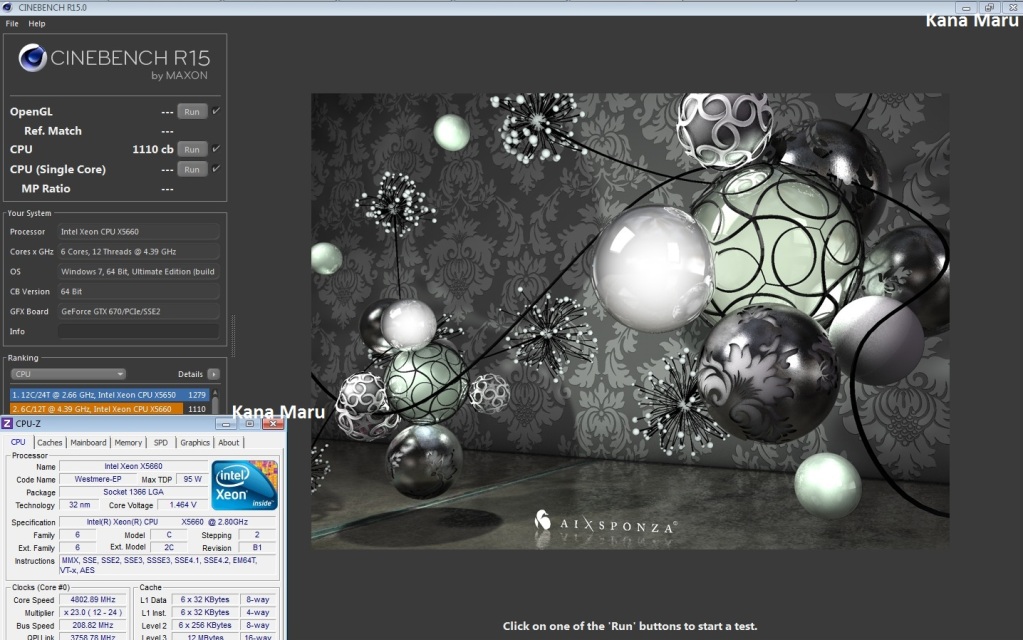 i7-3970X @ 4.9Ghz = 1252 cb
Xeon X5660 @ 4.8Ghz = 1110 cb
Xeon L5639 @ 4.1Ghz = 965 cb
There are a lot of Cinebench R15 scores available. Cinebench loves faster RAM. I chose the i7-3970X that is ranked on HWBOT. The i7-3970X is 12.8% faster than my X5660. The i7-3970X is running DDR3-2423Mhz and once again I'm running 1600Mhz with my X5660. Cinebench loves fast RAM so those numbers can easily change for both processors. It's hard finding units that match my RAM setting so I went with the processor speed.

The 3970X is roughly 30% faster than the L5639 running DDR3-1333Mhz. For only $70 [L5639] that's pretty damn good for nearly 6 year old technology. The i7-3970X processor retailed for $1,039.99 and currently $700-$900. The numbers look good, but the performance increase is what really matters to me. 12.8% [X5660] increase isn't going to make me run out and upgrade my PC. You'll have to also add the price of the new MB and CPU. Not to forget to mention coolers and other things needed when changing platforms\MBs. obviously enthusiast will always have that upgrade itch. Maybe the X5660 can ease the pain for a little longer.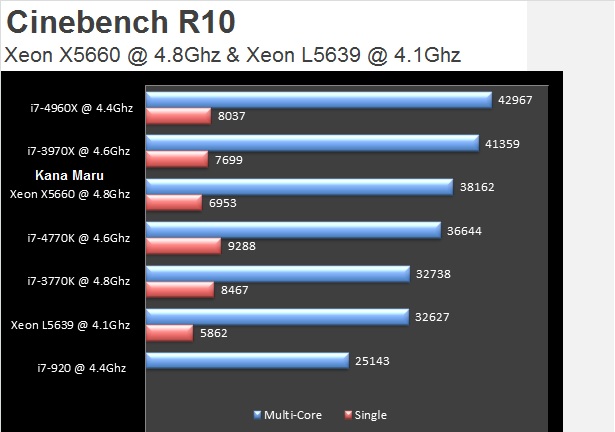 Xeon X5660 Performance Increase [+] \ Decrease [-]

Multi-Core - Overclocked:
i7-4960X @ 4.4Ghz = 42967 [-12.5%]
i7-3970X @ 4.6Ghz = 41359 [-8.3%]
X5660 @ 4.8Ghz = 38162 [0.0%]
i7-4770K @ 4.6Ghz = 36644 [+4.1%]
i7-3770K @ 4.8Ghz = 32738 [+15.1%]
L5639 @ 4.1Ghz = 32627 [+16.5%]
i7-920 @ 4.4Ghz = 25143 [+52%]

Singe Core - Overclocked
i7-4770K @ 4.6Ghz = 9288 [-33.5%]
i7-3770K @ 4.8Ghz = 8467 [-21.7%]
i7-4960X @ 4.4Ghz = 8037 [-15.5%]
i7-3970X @ 4.6Ghz = 7699 [-10.7%]
X5660 @ 4.8Ghz = 6953 [0.0%]
L5639 @ 4.1Ghz = 5862 [+18.6%]
Cinebench R10 is pretty old, but still useful. Well the Open GL isn't that useful for me, but the CPU benchmark scores are. In the Multi-core test the Xeon L5639 actually does pretty well. The i7-4960X is 31.7% faster than the Xeon L5639 @ 4.1GHz and 71% faster than the i7-920 @ 4.4Ghz. The i7-4770K [Quad-Core] clearly outperforms the other CPUs core for core in Cinebench R10 Single Core. The i7-4960X is only X5660 12.5% better in the Multi-Core benchmark. I7-920 and i7-960 users will definitely see a lot of performance gains if they choose to upgrade to the X5660 or the L5639.