Page 1 of 11
Westmere-EP - X5660 Full Review
Comments

Introduction
Update - 2020: X58 + AMD Radeon RX Vega 64 Review: Click Here

Update - 2020: X58 + AMD Radeon Fury X Review: Click Here

Update - 2017: X58 + AMD Radeon Fury X Review: Click Here

Update - 2015: X58 + AMD Radeon Fury X Review: Click Here
It was suggested to me that Intel's best platform to date could be the X58-LGA1366. From the looks of it, that suggestion may have been correct. Moving into its sixth year in the market; the legacy X58\Tylersburg is still alive and kicking. There appears to be plenty of life in the platform now that high-end server microprocessors are more affordable. This review is mainly for those who are on the fence and thinking about upgrading to X79 or possibly the X99. I also understand that Haswell-E is right around the corner, but some users might not want to upgrade unless they absolutely have to. Some users can't always buy the latest and greatest. Personally I can, but only if I feel as if I'm getting a lot more than what I already have.

To most X58 users Intel's X79 felt like a "side-grade" instead of an upgrade. I'm not saying X79 doesn't offer a lot, but is it worth the price at this point? The architectures are obviously different. However, the X58 now has upgrades that cost less than $150-$200 that can easily even up the playing field a bit. Hex-cores are available and more affordable now. Unlike Intel latest Xeons [Sandy & Ivy Xeons], which have locked straps, LGA1366 has the ability to overclock Xeons by increasing the BLCK and\or CPU ratio. I'm sure many users are hoping to add as many years to the awesome X58 platform as possible. Many will tell others to upgrade, but not so fast. I've taken the time to compare my Xeon X5660 and L5639 to Intel's latest and greatest high end CPUs.

I cover the CPU benchmarks and gaming benchmarks. I also added something I like to call "Real-Time Benchmarks" which is for gaming. Instead of running a benchmark tool, I literally capture the frame times and frame rates from actual gameplay. I try to play at least 25 minutes or longer to give a good review, but sometimes I can't always hit the 25 minute mark [depends on the level and\or gamemode]. I also try to select the most demanding levels. For an example, my This email address is being protected from spambots. You need JavaScript enabled to view it. struggled to play Crysis 3 maxed @ 1080p. There was constant micro stutter and bottlenecking. After I installed my L5639 and later, the X5660, Crysis 3 is much more playable and runs at a smoother rate. I show the actual data from my play through. The differences are night and day.

Moving on, I have made a brief chart comparing the X58 architecture to the X79 architecture.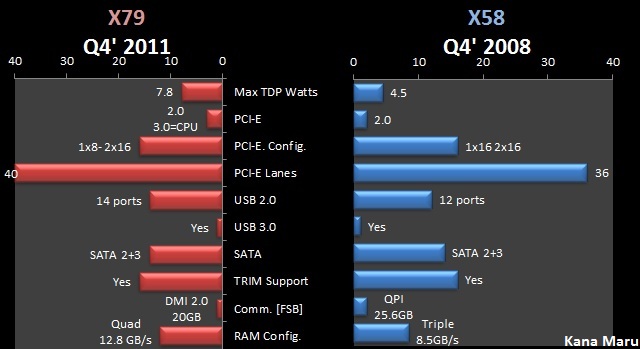 Now you can see why a lot of X58 users felt like this platform was a side grade. PCI-E 2.0 still has plenty of bandwidth for high end cards. There have been a lot of reviews that proves that there is a minor difference between PCI-E 2.0 and 3.0. X58 gamers can still enjoy high end gaming as usual. So hopefully my review will help X58 users that might want to make a minor upgrade to their existing system, rather than upgrading to a new build.

My PC Specs:
Motherboard: ASUS Sabertooth X58
CPU: Xeon X5660 @ 4.8Ghz
CPU Cooler: Antec Kuhler 620 Push/Pull
GPU: GTX 670 2GB 2-Way SLI - Reference Model
RAM: 12GB DDR3-1600Mhz [6x2GB]
SSD: x2 128GB RAID 0
HDD: x4 Seagate Barracuda 7,200rpm High Performance Drives [x2 RAID 0 setup]
PSU: EVGA SuperNOVA G2 1300W 80+ GOLD
Monitor: Dual – Res- 1080p, 1400p, 1600p
OS: Windows 7 64-bit
Note: All test prior to July 2014 were performed with a 7,200 HDD containing the main OS.