Page 2 of 6
DirectX 11 Benchmarks

2560x1440 - Internal Benchmark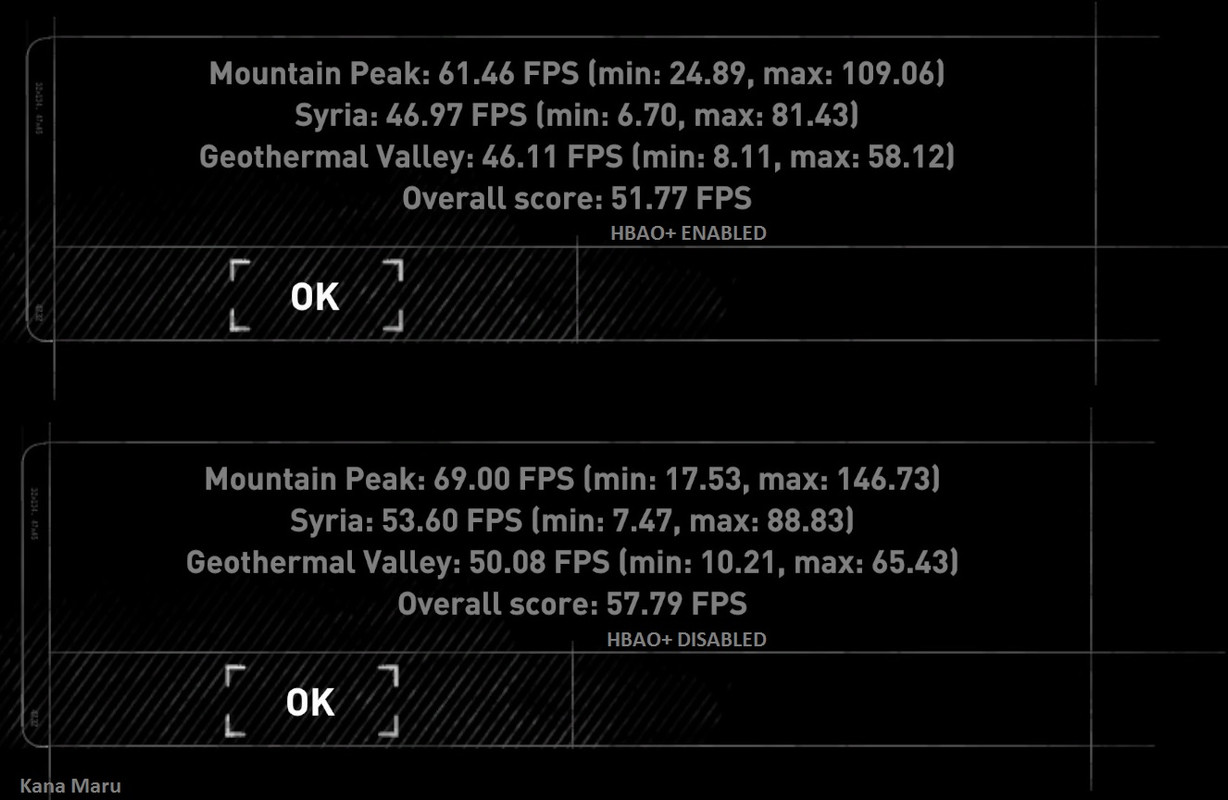 Very High & HBAO+ ENABELD

FPS Average
FPS Min
FPS Max
Overall Score
Performance
Difference
Very High & HBAO+ DISABLED - Using AO

FPS Average
FPS Min
FPS Max
Overall Score
Moutain Peak:
61.46
24.89
109.06
12.26%
Moutain Peak:
69.00
17.53
146.73
Syria:
46.97
6.70
81.43
14.11%
Syria:
53.60
7.47
88.83
Geaothermal Valley
46.11
8.11
58.12
8.61%
Geaothermal Valley
50.08
10.21
65.43
51.77FPS
11.63%
57.79FPS
While running the newly built in benchmark you can clearly see that the Nvidia HBAO+ Gameworks tech affects 11.63% of my overall Fury X performance. Noticed that when I use the built in "AO" that Crystal Dynamics provided my score increases. Could this be why several benchmarking sites didn't disable HBAO+? Who knows and I understand that it takes a while to benchmark and get all of the data ready for readers like you. However, this is a built in benchmarking tool and it takes less than 15 seconds to change the settings. I think this explains why we need to see more than one blanket "graphical" setting that the developers give us.
3840x2160

- Internal Benchmark
Very High & HBAO+ ENABLED - Using AO

FPS Average
FPS Min
FPS Max
Overall Score
Performance
Difference
Very High & HBAO+ DISABLED - Using AO

FPS Average
FPS Min
FPS Max
Overall Score
Moutain Peak:
34.30
15.66
78.48
16.59%
Moutain Peak:
39.99
14.57
90.11
Syria:
20.46
5.22
47.21
35.04%
Syria:
27.63
5.29
55.95
Geaothermal Valley
23.09
4.56
36.12
14.29%
Geaothermal Valley
26.39
5.28
37.55
26.29FPS
20.04%
31.56FPS
Moving on to the DX11 4K benchmarks, the same issues are experienced here as well. HBAO+ causes issues with AMD GPUs and perhaps some Nvidia GPUs as well. With HBAO+ disabled my fps @ 4K increased 20%. My fps for each benchmark level increased 5-7fps during the test.
So if you are running an AMD Radeon GPU you should DISABLE HBAO+no matter which settings you decide to use. With that being said let's see how well the game performs in-game.