Resident Evil Village + RTX 3080 + X58 Performance Analysis
Comments

Become a Patron!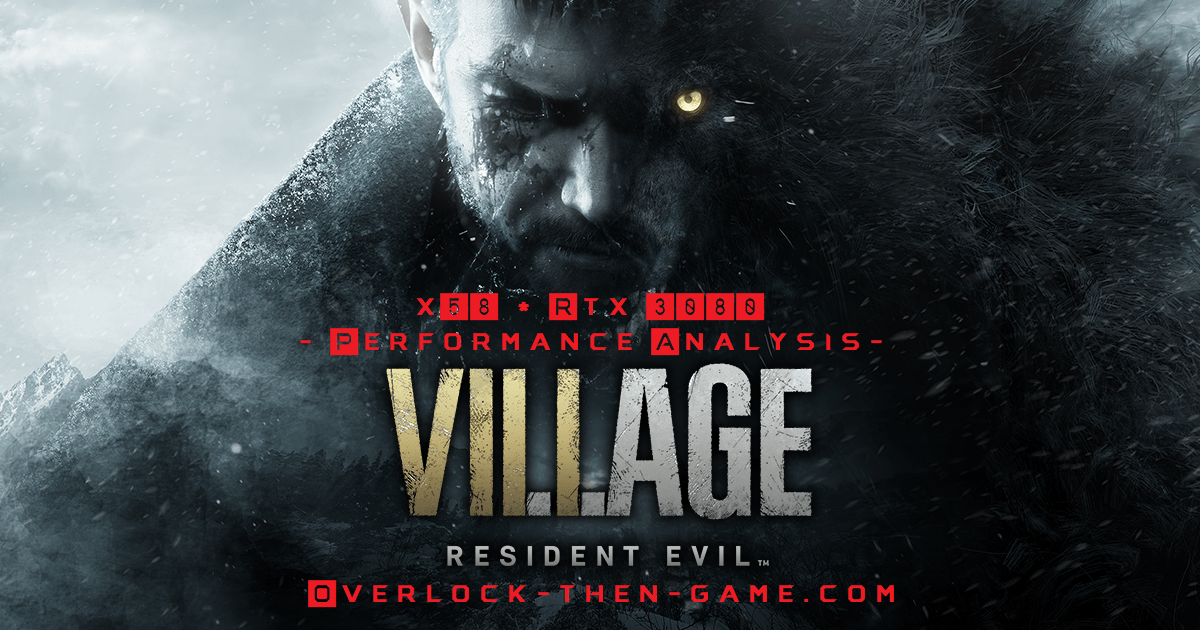 Introduction
Capcom has recently released their highly anticipated title, Resident Evil: Village. The game follows the Resident Evil 7 story arc and also follows the popular gameplay elements from RE 7. These elements focuses around the first person perspective along with supernatural sci-fi like experiences. Capcom also brings elements from their older games such as Resident Evil 4. RE Village has strong RE4 references such as the merchant and a shop for buying & upgrading weapons. Capcom is once again taking Resident Evil in another direction due to RE7 huge success.
Ray Tracing
Following Capcom's previous demo releases, Capcom has a timed demo for RE: Village. You have 1 hour to play the demo and there are no saves. You have access to two different areas which are the "Village" and the "Castle". This demo gives you a good example of what to expect and people should have no problems wondering if they will enjoy the full game or not. This demo also allows you to set plenty of graphical settings including the Ray Tracing features. By enabling Ray Tracing you have access to a few additional graphical settings: "GI and Reflection" & "Light Reflection". There has been a lot of talk about Ray Tracing in RE Village and I will explore it in more detail later in this article. I have also included pictures for comparisons later in this article.
Nvidia GeForce Drivers Issues
Prior to release Nvidia released their Game Ready Driver version "466.27". During my benchmarking tests I was able to complete the "Village" portion of the test using "466.27", but when I started on the "Castle" benchmarks I began to receive driver crashes. I would get no display or get no display with the PC functioning (I can hear sound and still use the keyboard+mouse). Either way I would have to manually restart my PC. Therefore I was forced to fall back to the GeForce "466.11" driver. I ran both the "Village" and "Castle" areas with the "466.11" drivers with no problem. My YouTube gameplay video was also recorded while using the 466.11 drivers. Overall the game played fine, but newer drivers "466.27" should take care of any performance issues and should be used if possible. If I am able to get the "466.27" drivers working properly I will continue my "Castle" benchmark tests, in the meantime the "466.11" drivers will have to do for now. I will include all of my benchmarks that I have available for both drivers.
Resident Evil Village + RTX 3080 + X58 Performance Analysis YouTube Video
Specifications
Not much has changed from my previous articles except that I have removed some HDDs from my separate RAID0 setup. Overall the specifications are the same. The RTX 3080 is running the stock settings.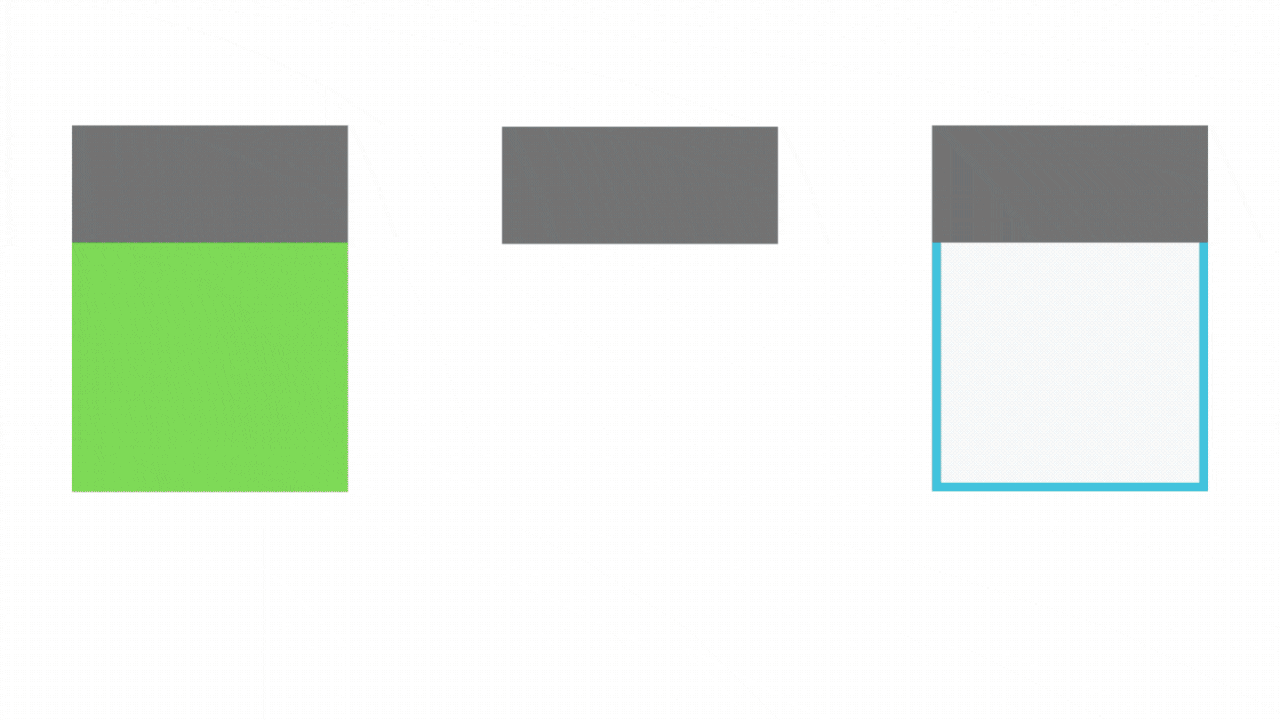 Real Time Benchmarks™
Real Time Benchmarks™ is something I came up with to differentiate my actual "in-game" benchmarks from the "built-"in" or "internal" standalone benchmarks tools that games offer. Sometimes in-game - Internal benchmark tools doesn't provide enough information. I gather data and I use several methods to ensure the frame rates are correct for comparison. This way of benchmarking takes a while, but it is worth it in the end. This is the least I can do for the gaming community and users who are wondering if the X58 and current GPU hardware can still handle newly released titles. I have been performing Real-Time Benchmarks™ for about 7 years now and I plan to continue providing additional data instead of depending solely on the Internal Benchmark Tools or synthetic benchmarks apps.
-What is FPS Min Caliber?-
You'll notice something named "FPS Min Caliber". Basically FPS Min Caliber is something I came up to differentiate between FPS absolute minimum which could simply be a point during gameplay when data is loading, saving, uploading, DRM etc. The FPS Min Caliber™ is basically my way of letting you know lowest FPS average you can expect to see during gameplay. The minimum fps [FPS min] can be very misleading. FPS min is what you'll encounter only 0.1% during your playtime and most times you won't even notice it. Obviously the average FPS and Frame Time is what you'll encounter 99% of your playtime.
-What is FPS Max Caliber?-
FPS Max Caliber uses the same type of thinking when explaining the MAX FPS. Instead of focusing on the highest max frame that you'll only see 0.1% of the time, I have included the FPS max Caliber you can expect to see during actual gameplay. With that being said I will still include both the Minimum FPS and the Max FPS. Pay attention to the charts since some will list 0.1% (usually for synthetic benchmarks), but normally I use 1% lows for nearly all of my benchmarks. In the past I used the 97th percentile results, but now I just use the 1% most of the time. I just thought I would let you enthusiast know what to expect while reading my benchmark numbers.
"Village" - GPU Benchmarks (466.27)
This portion of the benchmark tests takes place in the "Village" area. You will definitely get strong Resident Evil 4 vibes while playing through this area. I have separated the 466.27 drivers and the 466.11 drivers as well as the X5660 CPU Performance for each driver. 1080p with Ray Tracing disabled shows 162FPS on average with the minimum showing 114FPS. When Ray Tracing is enabled I dropped to 111FPS on average and 87FPS for the minimum. We see a drop of 31% in average FPS and a drop of 24% with the minimum FPS. 1440p shows 147FPS on average with Ray Tracing disabled and 108FPS with Ray Tracing enabled. That is a drop of 27% when Ray Tracing enabled. 4K reveals 99FPS on average without Ray Tracing. When Ray Tracing is enabled we see 72FPS on average. That is a drop of 27% in the average FPS just by enabling Ray Tracing. Ray Tracing is hitting hard in this game and decreases the average FPS performance by about 27%. Minimum FPS drops by about 23% across the board on average. This is all that I have for the RE Village Demo benchmark while using the 466.21 drivers, however I have all areas using the 466.11 driver on the next pages. Later in the article we will take a look at the vRAM usage for each resolution.
Real Time Benchmarks™ - GeForce Driver 466.27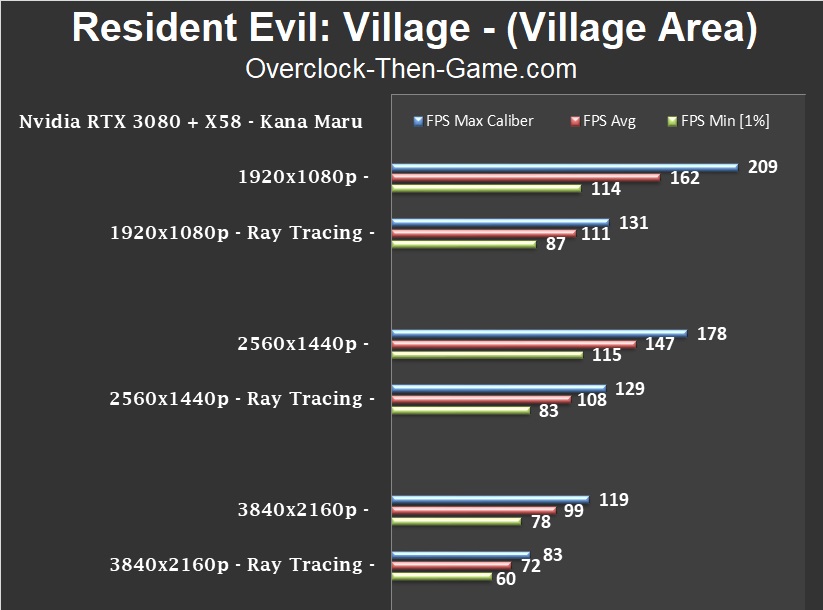 "Village" - GPU Benchmarks (v466.11)
This is the same area "Village" that was benchmarked on the previous page except these results use the GeForce Drivers 466.11. These results only include the 1440p and the 4K benchmarks. 1440p shows 101FPS on average with 110FPS minimum. When Ray Tracing is enabled 1440p shows 108FPS average and 82FPS minimum. That comes out to a 27% drop in in the average FPS. The minimum FPS drops by 25%. Roughly dropping around 25%-27% is becoming normal for Ray Tracing negative performance hits. Taking a quick look at 4K using the 466.11 drivers we see an average FPS of 101 and a low minimum of 84FPS. When I enabled Ray Tracing we see an average of 77FPS and 64FPS for the minimum. That is another drop of about 24% in the average. The same is true for the minimum FPS loss, it comes out to 24% as well.
Real Time Benchmarks™ - GeForce Driver 466.11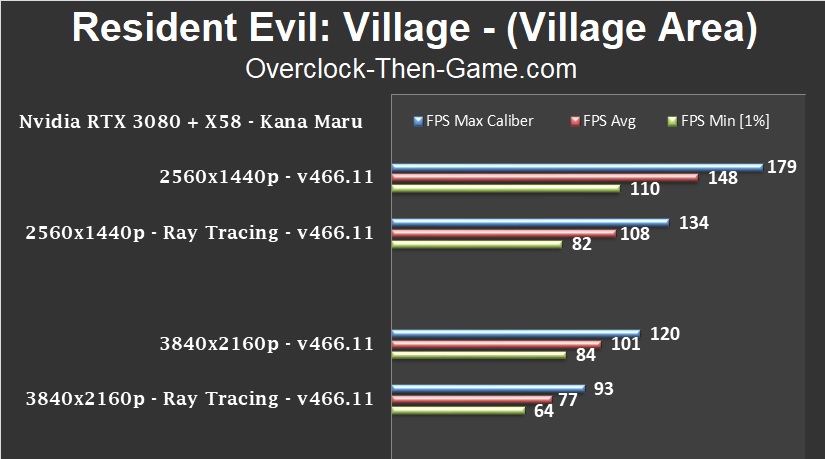 "Village" - 466.11 vs 466.27 Comparisions
When comparing both drivers at 1440p we don't see a huge difference in performance. 1440p shows roughly a 1% difference in performance, but that's mostly due to the CPU bottlenecking. When I removed the CPU bottleneck and checked out the 4K results we can see a reversal, the older drivers (466.11) actually performed better as far as Frame Per Second goes. Without Ray Tracing at 4K there is only a 2FPS difference on average, but with Ray Tracing enabled there is roughly an 8% difference in average FPS. The newer driver (466.27) shows only 72FPS on average, while the older driver (466.11) shows 77FPS on average.
4K Performance Differences
It is also worth mentioning that at 4K the minimum FPS performs better on the older drivers as well. Without Ray Tracing there is an increase of 7% when using the older 466.11 driver over the newer driver. When Ray Tracing is enabled we see an increase of 6% when using the older driver. Earlier I stated "the older drivers (466.11) actually performed better as far as Frame Per Second goes.", however it is worth noting that the new driver will and should take care of any engine relating performance problems. I personally only noticed one minor micro-stutter issue during my play through *SPOILER ALERT……stopped reading now if you haven't played the demo\game*.....that is when you are attacked by a very interesting female creature. She gets close and personal and I remember the game showing a bit of a micro-stutter and this also shows in my Resident Evil Village playthrough I have posted on YouTube. I can only remember this happening once when Ray Tracing was enabled. The newer driver should take care of minor issues like that while playing the full game. Other than that the older driver ran fine in the demo.
FPS Comparison - 466.27 vs 466.11

CPU Usage Percentage
Another thing I noticed is that the newer driver (466.27) performed better in my CPU tests than the older driver. You will see my CPU Utilization percentages later in this article, but I will give a little info here as well since I am comparing the old and new drivers. Lower resolutions performed roughly the same, but the 4K CPU usage showed a nice decrease in CPU utilization performance, which is what you want when it comes to the CPU. The less workload on the CPU usually leads to a better experience, especially for streamers and users who run other small tasks during gaming sessions. Please read "X58 + X5660 CPU Performance Benchmarks" which includes more information and charts for comparisons between both drivers.
"Castle" - GPU Benchmarks (v466.11)
If the "Village" area didn't give you a ton of Resident Evil 4 vibes the Castle definitely will. The Castle is easier to run since there is less to render. This area shows the Ray Tracing features much better since there are plenty of dim lit areas and candles throughout the castle. I have included pictures later the article for the Rasterization and the Ray Tracing differences. Now to the benchmarks: 1440p shows 218FPS on average with a low of 149FPS. When I enabled Ray Tracing we see an average of only 131FPS and a low of 97FPS. This is a pretty huge drop off which shows a 40% decrease in the average FPS while the minimum FPS shows a drop off of about 35%. However, for some gamers this drop off might be worth it since Ray Tracing still pulls a nice 131FPS on average at 1440p. Looking at the 4K results we see an average of 125FPS and 87FPS for the minimum. With Ray Tracing enabled we see 83FPS on average and a minimum of 58FPS. That comes out to a 34% drop in the average FPS and a 33% drop in the minimum FPS when Ray Tracing is enabled. That still might be enough performance for most gamers to take the hit for better visuals.
Real Time Benchmarks™ - GeForce Driver 466.11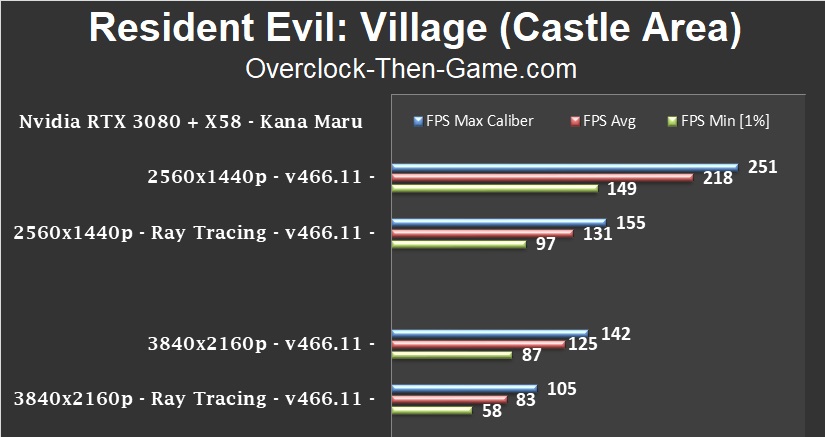 RTX 3080 vRAM Usage & Power Consumption
Taking a quick look at the GPU vRAM shows that the RTX 3080 has enough memory for 4K and Ray Tracing in this title. Originally I was only going to include the average vRAM, but I have decided to include the maximum as well. Data is constantly being allocated and used in the GPU vRAM so the average is a good point of reference for the requirements. If Resident Evil Village is anything like the previous two RE titles (RE2 & RE3) the VRAM requirements that we see in the Display\Graphics options will strictly be a reference. In RE2 the game says that 12.63GBs is what is required, but we weren't really using all 12GBs. Ironically if we go strictly by what the game says, traditional Rasterization (10.08GBs) uses slightly more vRAM than Ray Tracing (9.99GBs). By looking at my charts below we can clearly see that this is not the case and we see that Ray Tracing uses more GPU memory on average of Rasterization. In the RE Village demo the max amount of vRAM that I used was 9.5GBs at 4K with the max graphical settings ("Village" area). So the Graphical Settings which shows 9.99GBs wasn't that far off, but the average was still roughly 500MBs below what the RE game engine shows us in the graphic options. I'm sure there are different areas in the game that will require more vRAM to be used, but I don't think it will complete saturate the 10GB memory buffer in the RTX 3080 especially with Nvidia's optimizations in their 466.27 drivers. Below I have shown the vRAM usage for both the "Village" and "Castle" areas in the game.
RTX 3080 vRAM Usage - "Village" Area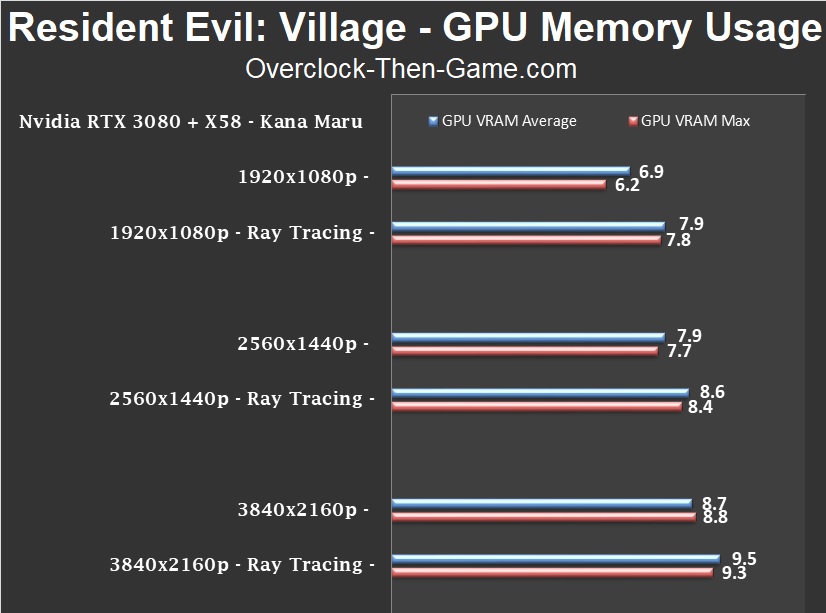 RTX 3080 vRAM Usage - "Castle Area"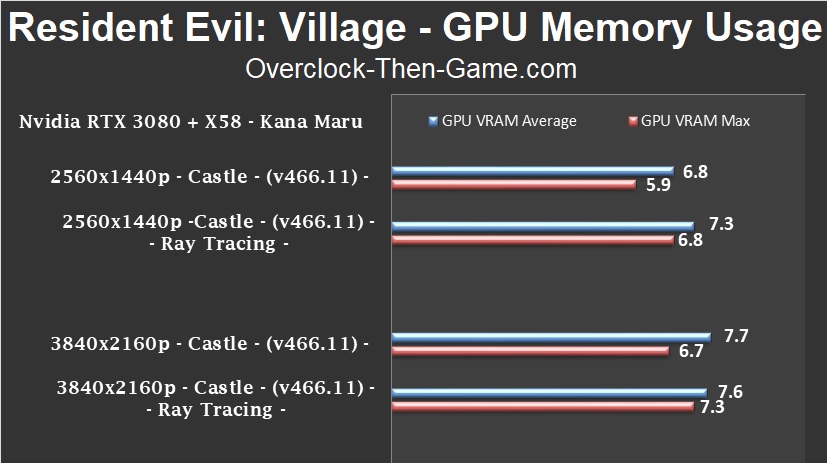 RTX 3080 Power Consumption
The EVGA RTX 3080 XC3 average power consumption across several benchmarks above is 316 watts with stock settings. You can get even better wattage averages by adjusting the Power Limit and by limiting your frames.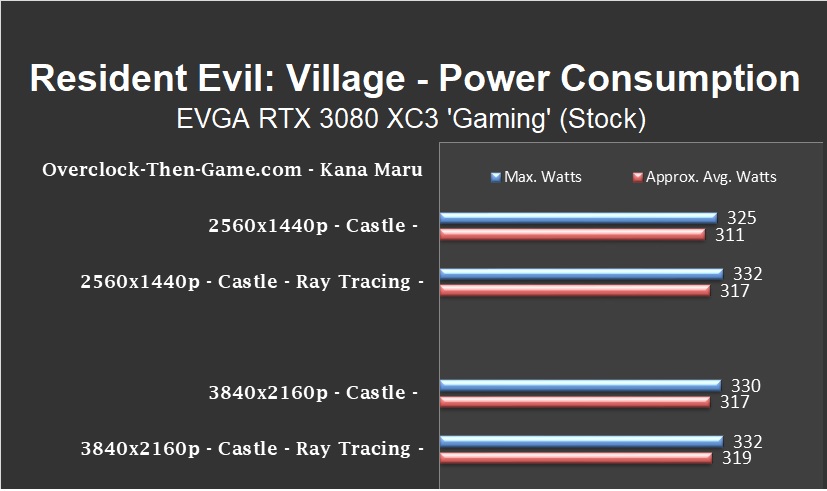 Ray Tracing vs Rasterization Comparisons
The Ray Tracing implantation in RE Village is noticeable and of course some areas are more noticeable over others. I have included several pictures below to show some of the differences between the lighting in this game. Use your mouse to drag the white slider in the middle of the two comparison images. The image on the left will show the render with Ray Tracing Disabled and the image on the left will show Ray Tracing Enabled. So when you drag the slider to the "right" it will reveal the image with Ray Tracing Disable and when you drag the slider to the "left" it will reveal the image with Ray Tracing Enabled.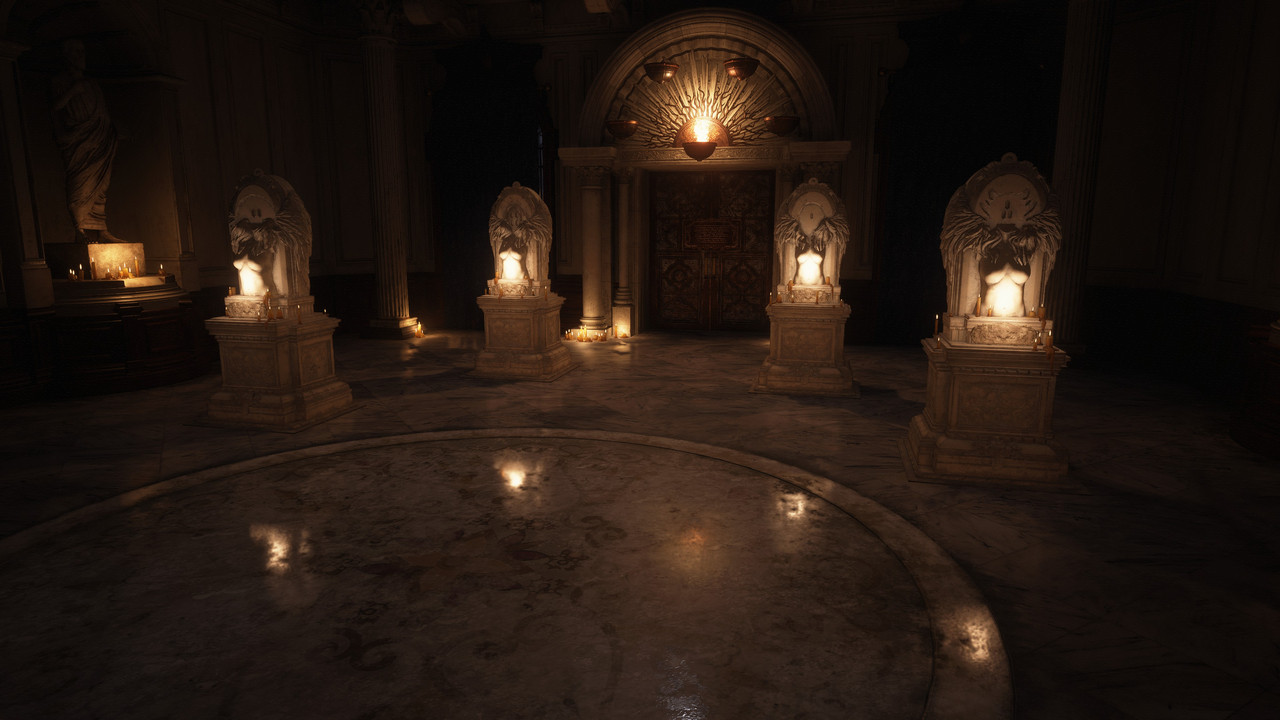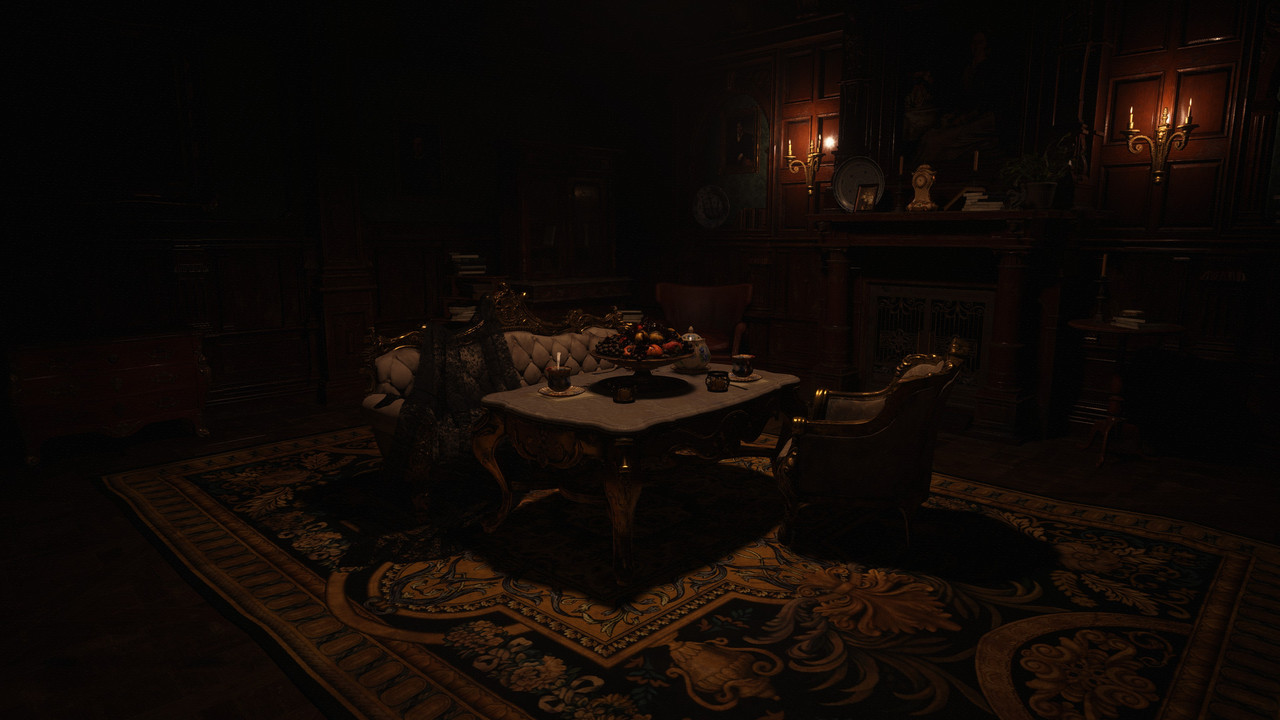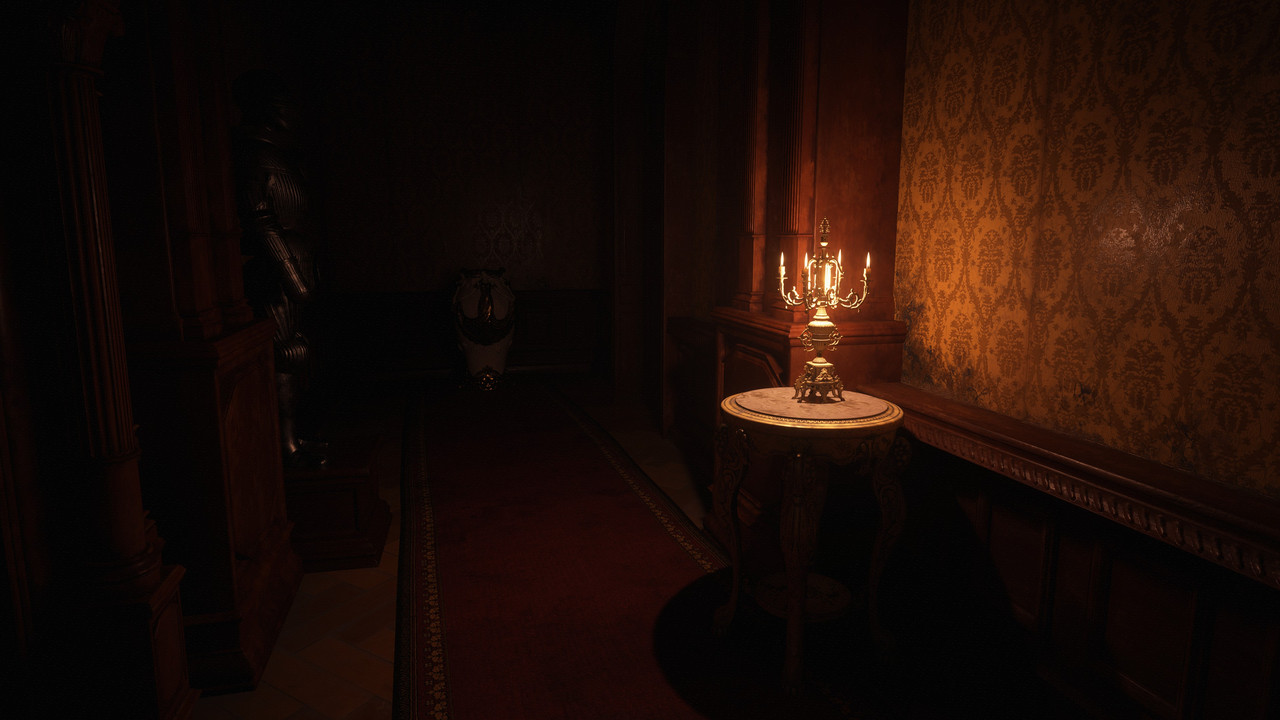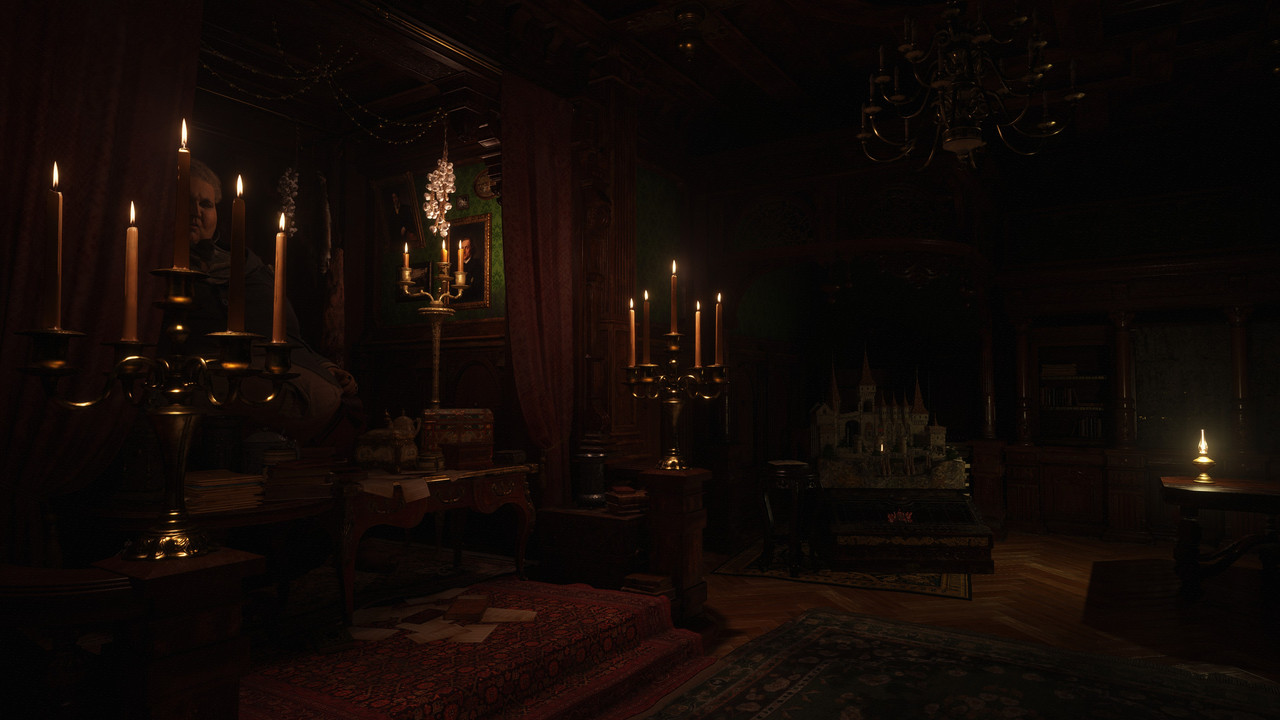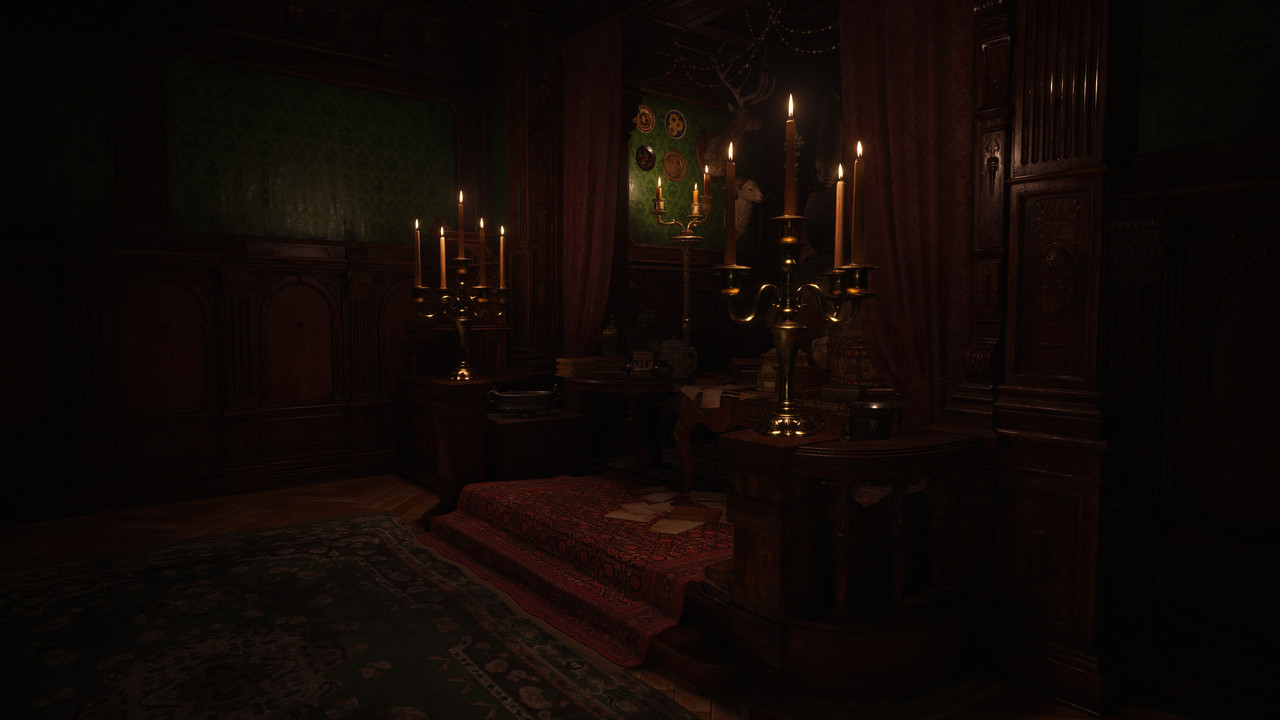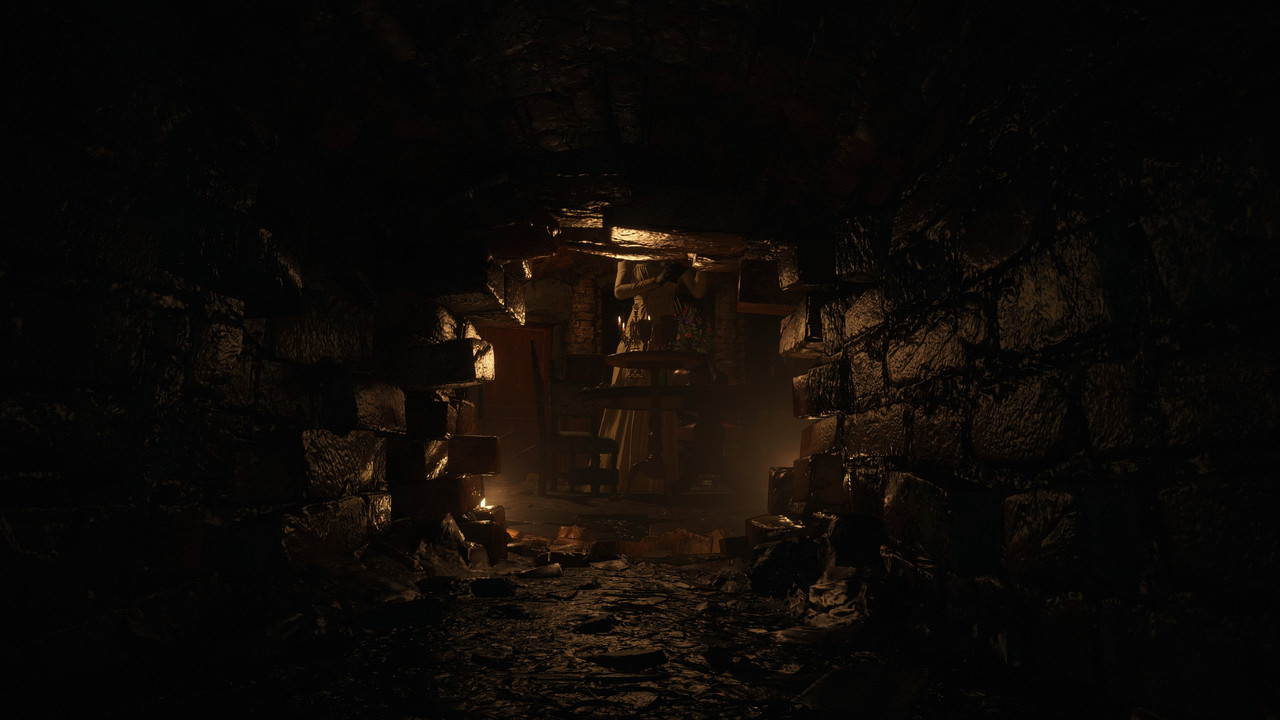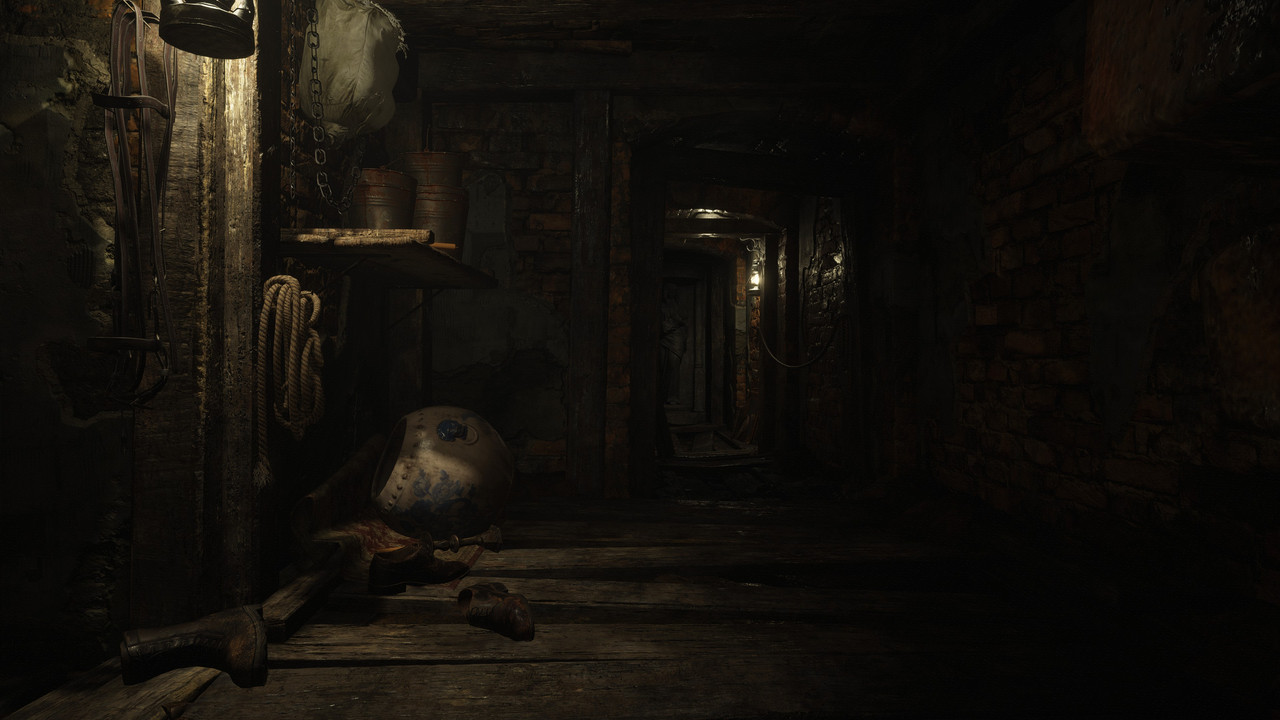 X58 + X5660 CPU Performance Benchmarks
What makes my review unique is that I am running Intel's 2008 platform, X58, which turns 13 years old this year. As I have shown in my "X58 + RTX 3080" & "X58 CPU Performance with Nvidia's RTX 3080" articles we see that this ancient platform can standup to modern flagship GPUs at 4K. I decided to include my CPU Performance since I recently wrote my X58 CPU Performance article. I will include the information found here in that article as well. This will also give you more insight into how well my X5660 CPU performs and how well Nvidia optimized their drivers for Resident Evil Village & Ray Tracing features. Remember when it comes to CPU Utilization lower is always better for this type of benchmark. 1440p performs roughly the same as expected for the average CPU usage percentage due to bottlenecking. You can see a decent increase in the minimum usage. Without Ray Tracing we see a CPU performance increase of 30% with the new drivers. With Ray Tracing enabled we see an increase of about 11%. The average CPU usage performance at 4K without Ray Tracing increased by about 8% while the Ray Tracing results shows my CPU usage average increase by 15%. That's a pretty nice bump in CPU utilization from a single driver (466.72) specifically for this game (and Metro: Exodus). For the minimum CPU usage without Ray Tracing we see an increase of 6% over the older driver. However, the minimum CPU usage performance increased by a whopping 80% when Ray Tracing was enabled. The average is always the most important in addition to how many times you hit 100% (bottleneck), but the minimum shows how well the new 466.27 performs compared to the older 466.11 driver in this game. The CPU was able to get even lower utilization several times throughout my benchmarks with the new 466.27 driver.
X5660 CPU Usage Percentage Comparison - GeForce Drivers: 466.27 vs 466.11
Lower is better

X5660 CPU Performance - "Village" - Rasterization (v466.11)

X5660 CPU Performance - "Village" - Ray Tracing (v466.11)

X5660 CPU Performance - "Village" - Rasterization (v466.27)
As I explained above you can see that Nvidia's latest drivers (466.27) performs much better than the older drivers. You can clearly see the CPU utilization drop much more often while using the latest drivers from Nvidia. The performance increases are larger when Ray Tracing is enabled.

X5660 CPU Performance - "Village" - Ray Tracing (v466.27)

Conclusion & Comments
After completing my benchmarks and analyzing the data we can see the pros and cons for the 466.27 and 466.11 drivers. Nvidia definitely released some nice optimizations for the Ray Tracing and CPU performance. Overall the game played fine with little to no issues which is expected from Capcom's well developed RE Engine. I did run into an issue regarding the new 466.27 Nvidia Game Ready Drivers which I explained at the beginning of this article. The new drivers were performing fine, but began to crash my system which forced me to fallback to 466.11. The 466.11 drivers performed very well, but if possible you will want to use the 466.27 drivers for specific RE Village optimizations. Just as previous RE titles gave you plenty of graphical options, RE Village gives you plenty of graphical options to set as well. I love that Capcom shows us a reference image for each graphical settings and Capcom also lets us know what each graphical settings would change. For instance you have a box on the left of the reference image which shows checkmarks for different areas (Image Quality, Model Quality, Lighting Quality and so on). There is a bar that lets you know how close you are to maxing out the specific option. Due to a few driver issues I was able to compare both drivers while playing the "Village" area. This area revealed some nice information for the pros and cons of each driver. The older 466.11 will play the game fine and give you slightly better frames per second at 4K on average. With the min FPS I was able to gain approximately 8% without Ray Tracing enabled. With Ray Tracing enabled I gained 6.66% (this game is hunted!). The CPU comparison was nice to benchmark as well which shows that the newer driver (466.27) is better optimized for CPU performance. So there is a tradeoff for both drivers. You can either shoot for higher FPS with the older driver or get more stability and optimization with slightly less FPS with the new driver. The latest driver from Nvidia should take care of any engine related issues as well.
My Thoughts On The RE Village Demo
I am a long time Resident Evil fan and I have played nearly all of them. I had high hopes for Resident Evil Village since it was a "new" title that wasn't a remake of a previous RE title and that it followed the highly acclaimed Resident Evil 7 story arc. I'm sure plenty of gamers will enjoy RE Village, but after playing the demo I can already tell you that this game isn't for me. I expected much more from the graphics\models after playing RE7, RE2 and even RE3. I saw the writing on the wall with the RE3 remake release since it felt rushed to the market after the success of RE2. Oh and don't get me started on one the best ideas and game releases Capcom has had in years, Resident Evil: Resistance. RE: Resistance was only playable by purchasing RE3. Unfortunately for Resident Evil: Resistance it wasn't properly supported, became a tacked on extra to RE3 and had a lot of potential and then died a horrible death since no more balancing updates will come to the title. Very eye opening to what Capcom is becoming after fans have shown them much love after several releases: RE7, RE2 and Devil May Cry releases.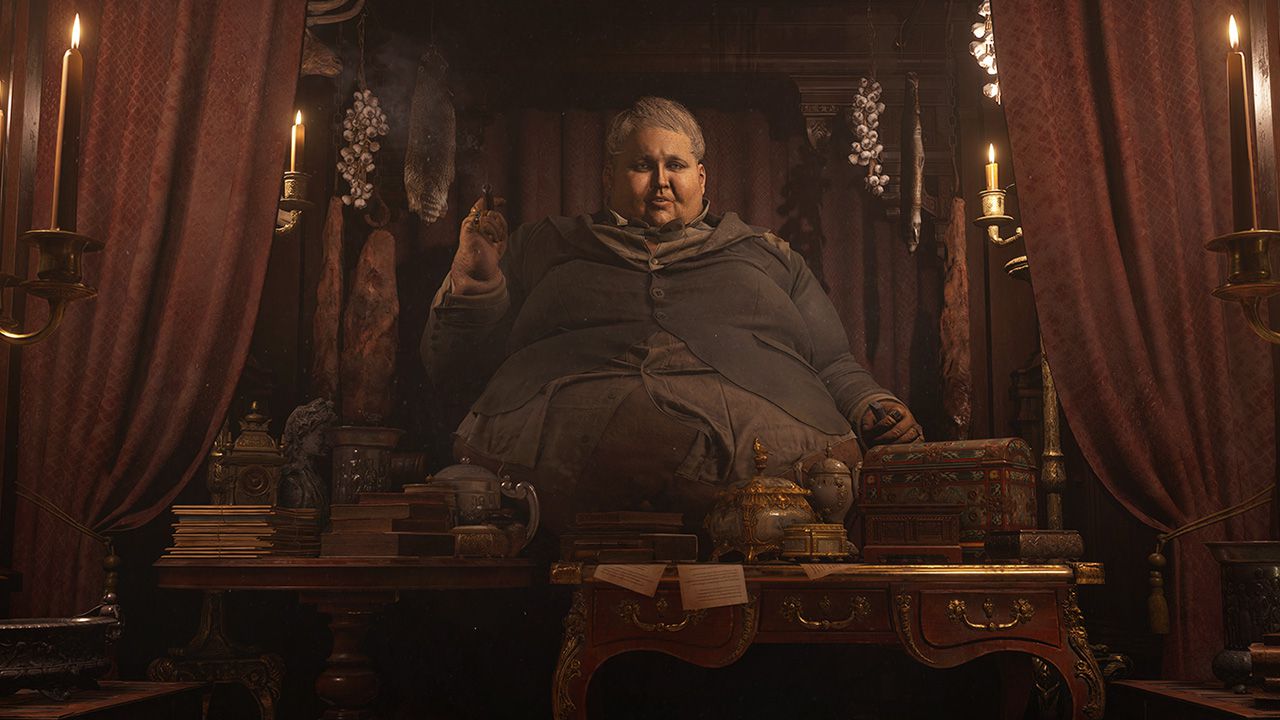 Resident Evil Village does heavily feel like a spiritual successor to Resident Evil 4 and most people would think that would be a good thing. RE Village is cheesy and I don't mean cool Resident Evil 4 levels of cheese, I mean cringe worthy cheese in my opinion. The voice acting, character models were over the top and didn't feel like a Resident Evil title to me based on voice acting alone. I have seen two Resident Evil releases, RE3 and now RE Village, that has me worried about the upcoming RE4 remake from Capcom and future Resident Evil releases, especially if RE: Village is successful in terms of sales. RE: Village will more than likely be successful in terms of sales.
Gameplay, Graphics & AI
The enemies are not scary and the "jump scares" did nothing for me. The graphics appears to have taken a hit in image quality when compared to previous RE titles; and even the older Devil May Cry 5 title, which also runs on the RE Engine, looks better in my opinion. When running through the village the vegetation looks very outdated and aligned more with a late Xbox 360 title or early Xbox One title. Some of the textures don't appear to be high quality either. However, the Castle looks pretty good and well-polished, however the Castle has more darker scenes and when you look around you can clearly see some less polished areas like the bricks and certain objects & textures. The initial boss battle did nothing for me and doesn't have the same type of "fear" or "concern" that was found in Resident Evil 7 or RE2. The voice acting was over the top and although Resident Evil 7 broke away from the traditional Resident Evil zombie settings and provided a great supernatural experience, RE Village continues that supernatural experience, but in a less convincing way. If the initial boss battle is anything to go by then I know for a fact RE Village won't be for me.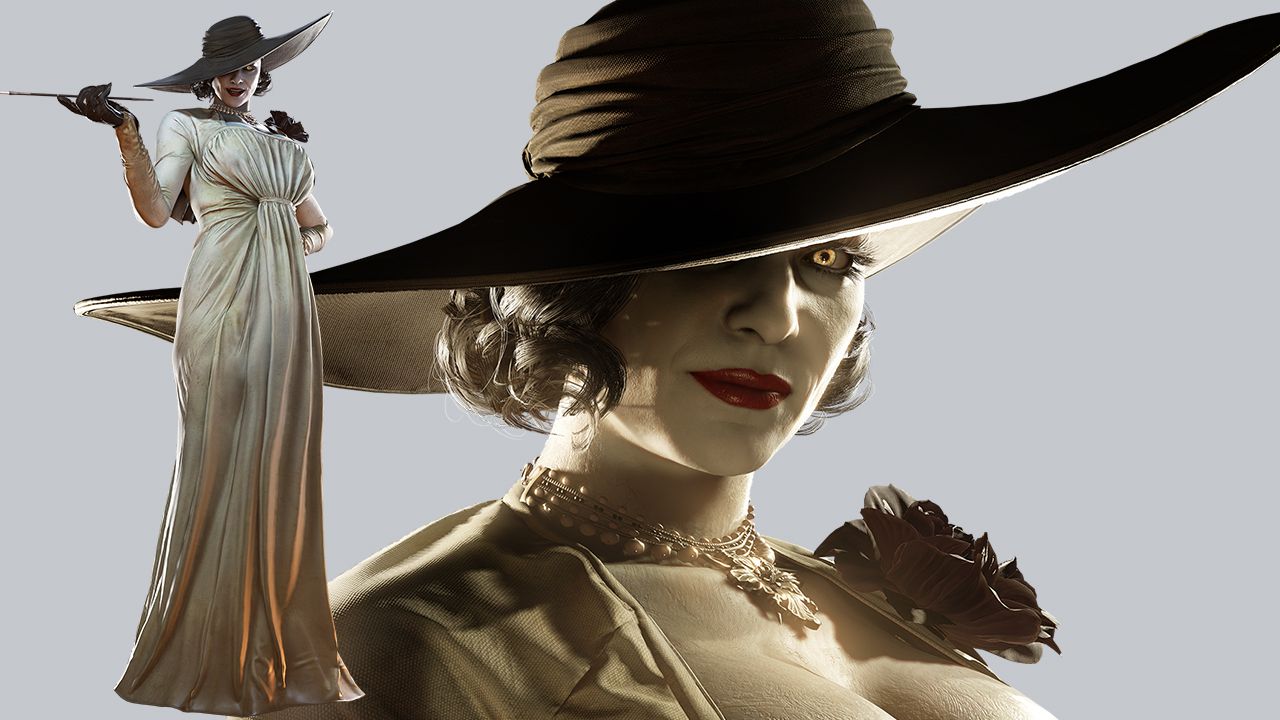 When it comes to the common enemies, they are over the top and mostly stare you down before attacking you on the normal settings. You can easily run from them in the open areas and after entering a house or a specific area they will simply leave you alone and go back to their NPC programmed spots on in the level. What!? In Resident Evil 4, RE2, RE7 and even the 2002 Resident Evil 1 Remake on the Nintendo GameCube (in specific areas), enemies would pound on the door or window and even break it. They would be relentless in their search & destroy missions and RE4 would have enemies surround the house and bring ladders! Not in the Resident Evil: Village Demo, if you enter a house and create enough distance between yourself and the enemy (not a lot of distance by the way), no matter how many enemies are pursuing you, they will turn around and run back to the natural "waiting" location on the map. The game also needs a FOV slider for PC since everything felt far too large and very close in my opinion. It seems like this title will be one of those Steam Sales titles that I'll pick up in the future when it's dirt cheap.
Thank you for reading my "Resident Evil Village Performance Analysis" article Feel free to leave a comment below and feel free to share this article. If you would like to see more content like this please consider donating to my Patreon or PayPal by clicking the images below. Thank you.
Become a Patron!
Comments

Comments